On December 10, 2018 by
Justin Osterholt
With
0
Comments -
Gaming
Metroid II is one of the most memorable titles for me on the Gameboy. The game play, aesthetic, and soundtrack are really good and create an immersive experience.
I remember being sucked into the alien world. The sounds and environment were strange and mysterious.
One memory that sticks with me is after defeating a metroid, sometimes the soundtrack/sound effects would change, giving the impression that my actions had somehow changed something, and adding to the suspense of what would happen next.
In all, this was a game that fully immersed me, encouraging me to explore and take my time, instead of trying to just get through each level. Investing the effort to solve puzzles was well worth it and gave a bit of an edge against the next baddie.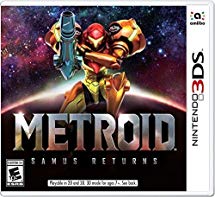 In 2017 Metroid: Samus Returns was released. This is a remake of Metroid II that sticks to the core of what made the classic, while bringing it up to modern times with some quality of life improvements and additional changes. It's different, yet unmistakably Samus Returns.